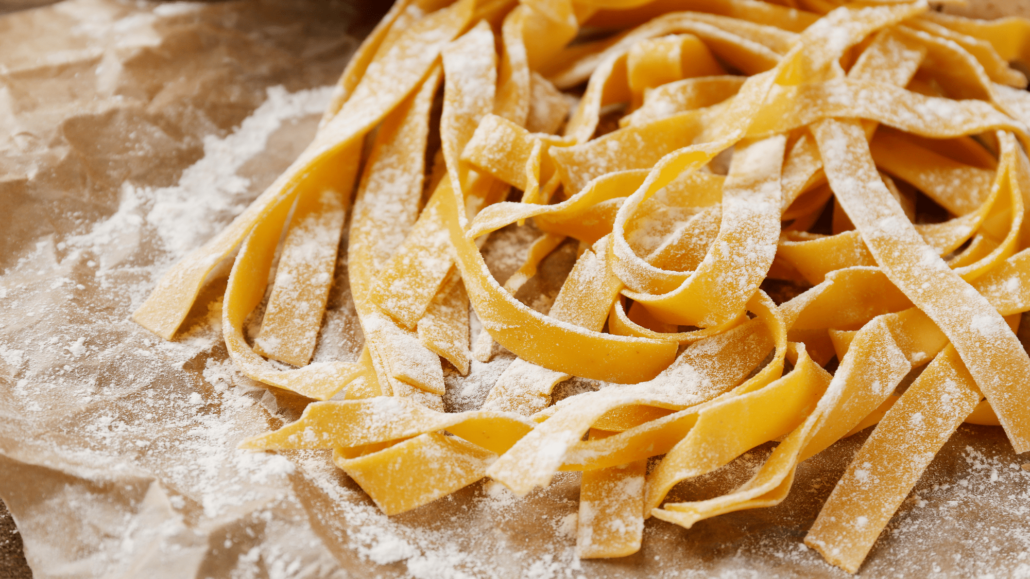 Homemade pasta is a labor of love. For Italian-Americans, the memories of our mothers and grandmothers hand-mixing semolina flour and egg, then carefully rolling it to just the right thickness and texture is collectively one of the most treasured memories we carry. At Salerno's we bring our family's homemade pasta tradition to our Berwyn and Oak Park customers. Learn more about the heart of our homemade ravioli, homemade lasagna, and other dishes on our menu that feature our housemade pasta.
Why Housemade Pasta?
When dry, factory-made pasta is easily available and inexpensive in Forest Park, why go to the trouble of making housemade pasta? Doesn't it just make menu items more expensive? While homemade ravioli and homemade lasagna do cost a bit more than their frozen counterparts, we think it's well worth the expense to have housemade pasta at the heart of these dishes. Housemade pasta, simply put, is a much higher quality than dry pasta. It's perfect for creamy sauces, and the pasta retains a smooth and creamy texture. While it takes time to make housemade pasta, the cooking time is cut in half. Plus, with commercially-made pasta, who knows how long it's sat on the shelf? With Salerno's housemade pasta, Stickney diners know they're getting fresh pasta, made with love.
What Housemade Pasta Does Salerno's Offer?
We think it's worth the trip from Riverside and Brookfield to have the delicious homemade pasta at Salerno's! When you'd like to experience Salerno's housemade pasta, look for the "Homemade" section of our menu where you'll find:
Meat or cheese tortellini
Meat or cheese ravioli
Stuffed baked shells
Baked mostaccioli
Baked cavatelli
Manicotti
Gnocchi
Lasagna
Want to share the deliciousness of homemade pasta at your next gathering? See our catering menu, where you'll have plenty of housemade pasta options for everyone at your event.
Enjoy Housemade Pasta at Home or at Salerno's Tonight!
Are you craving homemade ravioli or homemade lasagna? We don't blame you, and we'd love to see you and your family at any of our Salerno's locations tonight! Or, if you'd like to enjoy our homemade pasta from your home, simply order online for delivery.