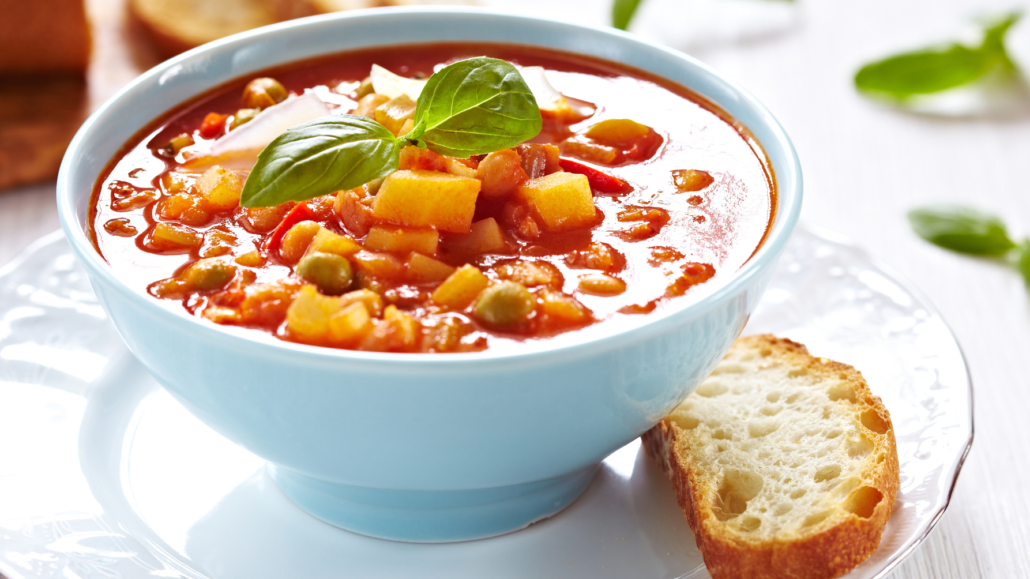 When winter blows into the Berwyn and Riverside areas, nothing hits the spot quite like a hot bowl of homemade soup. At Salerno's Pizza, minestrone soup is one of our favorites. What is minestrone? Think of it as vegetable soup, but Italian style. Learn more about the history of minestrone soup with Salerno's Pizza, then warm up with a bowl on the side of a focaccia sandwich. 
Minestrone Soup History
Minestrone soup has been around since before the Roman Empire. At that time, most people were vegetarian, and their staple food was a porridge made of spelt and whatever vegetables were available. After Rome had conquered Italy around the second century B.C., animal broths became common, so many cooks started using them instead of spelt in soups. Over the centuries minestrone soup evolved to reflect how people ate until it became the rich vegetable and pasta soup we know today in Oak Park.
What is in Minestrone?
There are as many kinds of minestrone soup as there are cooks, so asking what is in minestrone will yield a lot of different answers. Vegetables are key, though, especially onions, celery, carrots, tomatoes, and beans. They're generally cooked in a clear broth, which thickens with the addition of pasta to the pot.
In Italy, what is in minestrone can vary by region. For example, in the Geneva region you're likely to get minestrone made with a lot of herbs, or even the region's signature basil pesto. The nearby island nation of Malta favors potatoes, kohlrabi, cauliflower, and a thick tomato paste. At Salerno's, we offer our Berwyn diners our family's recipe for minestrone soup, which we think you're going to love, especially when winter arrives in Stickney.
Order Your Minestrone Soup from Salerno's Pizza
When a minestrone soup craving hits, order from Salerno's Pizza! Minestrone adds a nutritious and delicious side to any of our pizzas or entrees like chicken Parmigiana. Order by the pint or the quart so you can share the goodness with your entire family. Feeding a crowd? We even offer our minestrone soup on our catering menu. Warm up with us today!