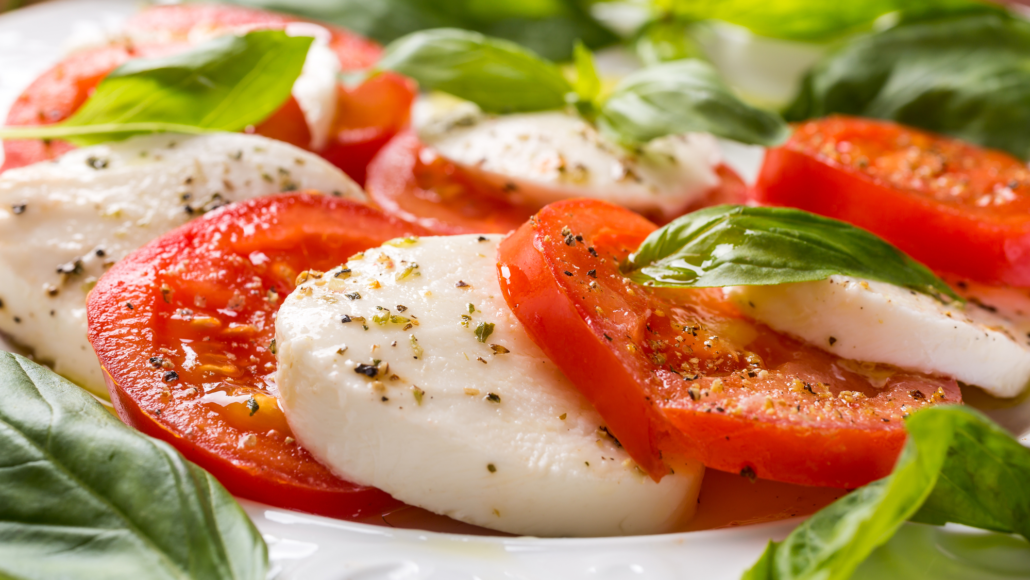 If you enjoy the bruschetta at our Oak Park-area location of Salerno's, chances are you're going to love Caprese salad! What is Caprese salad? In short, Caprese salad is slices of garden-fresh tomatoes and fresh mozzarella cheese with basil and an olive oil-based dressing that sometimes includes balsamic vinegar. On a hot day, Caprese salad makes a light and refreshing meal in and of itself. At other times it's an excellent compliment to our double-dough pizza, even though that's not a common way to serve it in Italy. Learn more about what Caprese salad is and its history with Salerno's! 
What is the Caprese History?
Berwyn and Forest Park diners might be wondering what is Caprese and where did it come from. Caprese salad originated in the Campania region of southwestern Italy, which includes the island of Capri and the city of Naples. This is the same area that gave the world pizza and spaghetti, so needless to say, the tomato is king. And it's certainly the star of a Caprese salad. Some people won't even touch Caprese salad if it isn't made with the freshest local tomatoes.
Caprese salad is believed to have originated on Capri, where it's likely to have been made for vacationing royalty and politicians. Like Margherita pizza, it shares its colors with the Italian flag. The origin story continues that this was the work of a post-World War I worker who wanted to express his patriotism. While the dish was locally popular, it really took off in the 1950s when more tourists started visiting Capri. In many ways, it's a quintessential Italian recipe: fresh, bright, and simple.
Learn More About Italian Cuisine with Salerno's Pizza!
Italian cuisine has a wonderfully rich history, which we love to share with our Brookfield and Stickney customers! That's why you'll find links on our menu that tell you all about the ingredients and history of your favorite dishes like Chicken Parmigiana and Vesuvio potatoes. We love sharing the history of our food with you and hope you'll appreciate the generations of know-how and love that go into every dish we make.